So this month for The Inspired Plate's food photography challenge we had summer dessert. Well, I'm always up for a dessert! No problem.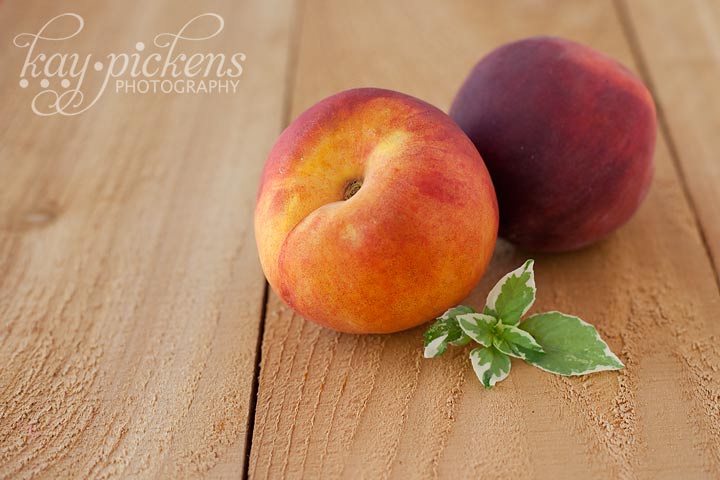 We luckily still have some peaches available here, though the locally grown Eckerts peaches are just about finished.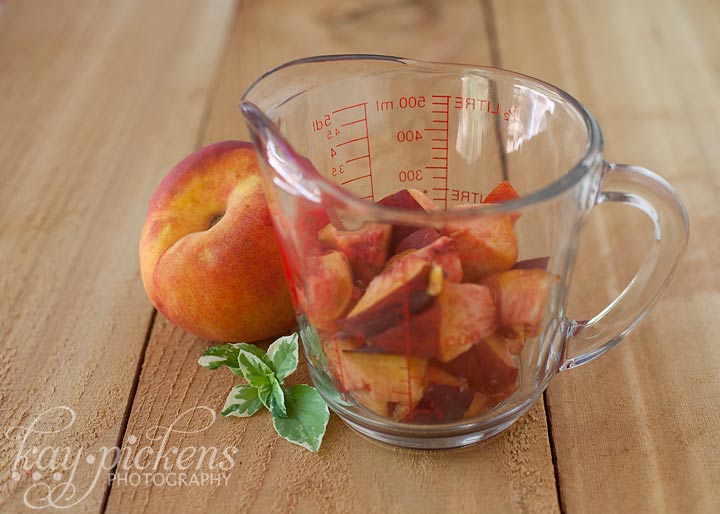 So I decided to experiment and make cinnamon peach frozen yogurt. I'd never made frozen yogurt before, that never has stopped me!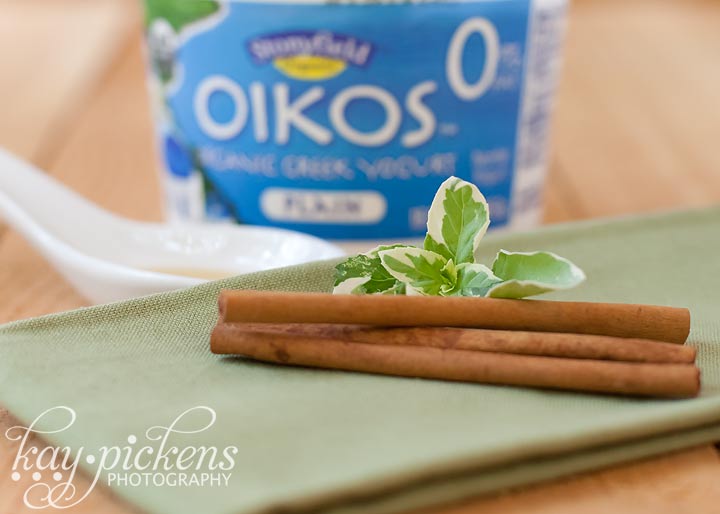 This is the brand of greek yogurt I bought, but I've also read you can strain regular yogurt if you don't have any greek yogurt. But, I was impatient and didn't want to wait to strain the regular yogurt. I get that way when I'm on a mission to make something! Oh, and that cute little green leaf? It's a wonderful minty variegated basil from our garden. Yum. Which has nothing to do with this recipe, but it's a cute garnish, right?
I think the frozen yogurt turned out pretty good, if I do say so myself. Then I tweaked it so it was even better. Yes, that's how I do it when I'm experimenting. So I give you: Cinnamon Peach Frozen Yogurt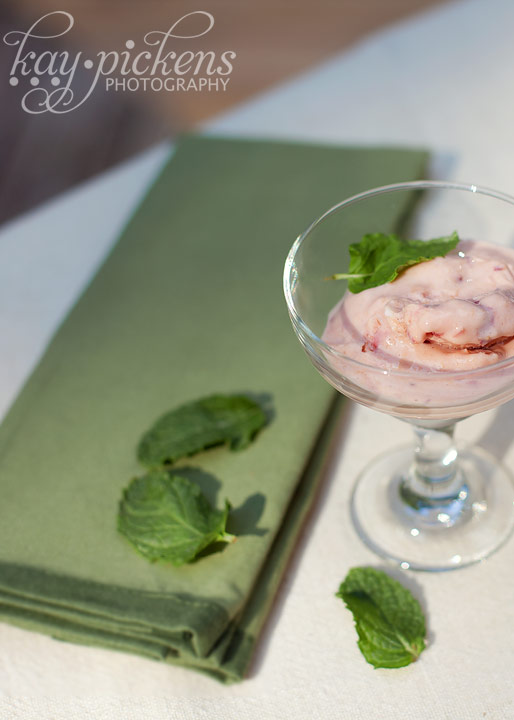 I didn't use an ice cream or frozen yogurt maker…I just froze the mixture. It was a little soft in these photos, but I froze it again later and it turned out better. I also liked it creamy cold right after I mixed it up. Kind of a fro-yo.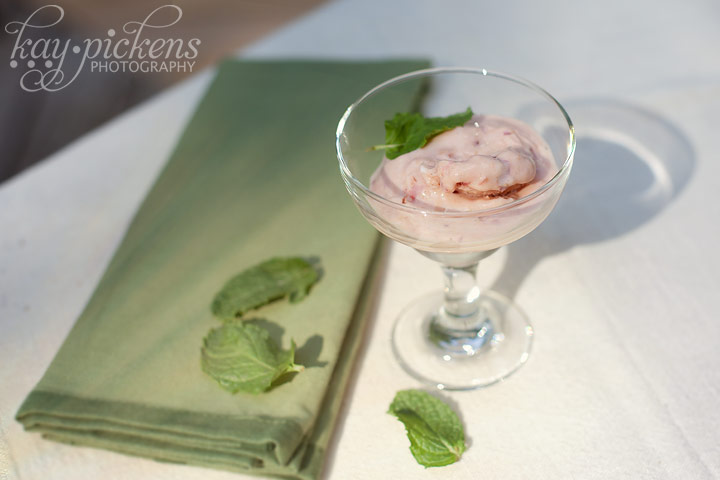 I love the evening light coming across these photos. Just seemed right and appropriate for this dessert.
Frozen Cinnamon Peach Yogurt Recipe
1 cup diced up peaches. I left the skin on. (freeze the chopped peaches for an hour or so before you start making the rest of the yogurt)
1 cup greek yogurt
1/2 teaspoon vanilla extract (or a bit more, I love the vanilla flavor)
1 teaspoon sweetener (sugar, honey, or artificial to equal a teaspoon–you choose. I used honey) my peaches were sweet, you might want more sweetener than this.
1/4 to 1/2 teaspoon cinnamon depending on how cinnamon-y you want it. I leaned towards the 1/2 teaspoon
dash of sea salt
Put the chopped peaches (that you froze) in a food processor and pulse them a few times until they are chunky, but not a soupy mess. Add the other ingredients and process until smooth, but once again, not a soupy mess. It should still be a bit thick. Pour into container and freeze for an hour or so. When I froze it this long, it was still soft serve.
We later ate the left over frozen yogurt and I just let it sit out about 20 minutes and served it up. Or you could zap it a bit to soften if it freezes too hard.
Right after I made this, I went out and bought the KitchenAid Ice Cream Maker Attachment

my kitchenaid mixer. I see a lot of frozen yogurt in our future…
and now that I think about that cute minty basil…I might see some kind of frozen yogurt that has basil in it…a person can never have too much basil…
Have fun traveling around our Inspired Plate food photography challenge blog hop. Enjoy Kim Kelly | San Food & Travel Writer and Photographer's post and see what all the members in our group chose for this month's challenge.