It's finally here! Nichole Van's Lighting Workshop in a Box. I'm so excited, that I'm going to do an unboxing post and show you all the cool stuff. I'm kind of nerdy like that!
As expected, Nichole has outdone herself on the beautiful packaging of this Lighting Workshop in a Box.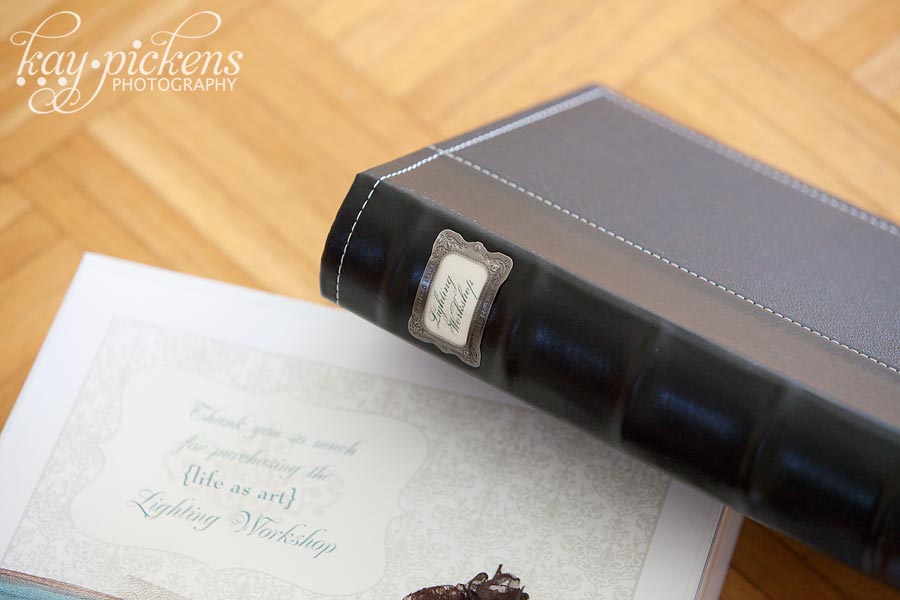 See the luscious leather box the workshop comes in?
She doesn't miss a trick on making her workshop look wonderful. From the pretty bow on the box, to the faint damask pattern of her branding on the box.
Inside the box are all her goodies for this workshop.
I'm sure I'll miss telling about some of the goodness, but here are just some of what is in the workshop. The manual, of course. Oh, I love the size of this one. Much easier to hold than the size of the original workshop in a box manual. Yay! The DVD of lots of goodness. A gift certificate to her online shop. A envelope of vendor specials. A troubleshooting guide and lighting practice cards. Pen, stickies. Well I'm sure I'm missing something.
I'll post a review after I've had time to read the whole workshop and work with more with off camera lighting. While I have played around some with off camera flash, it's on my list to really master next.
I did go to Nichole's in person professional workshop and it was the best workshop ever. She's an amazing teacher and I'd recommend her workshops to anyone who wants to take their photography business to the next level.
Well, I'm off to immerse myself in the workshop.