I love to go browsing antique malls and shops for props to use with my food photography.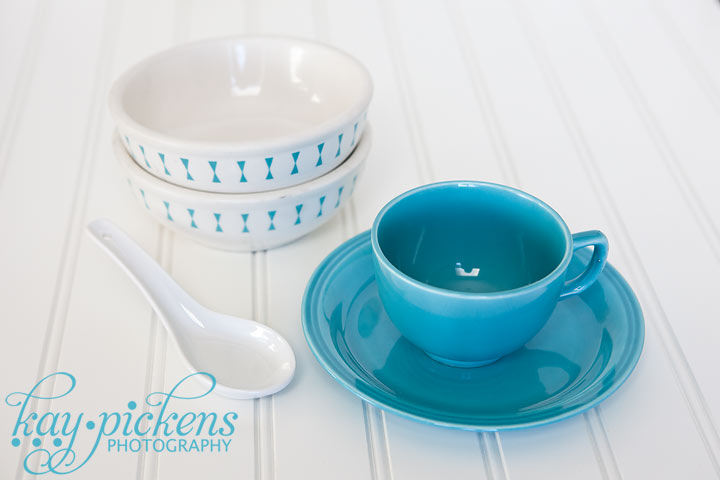 Quite often I'll go looking for props that the colors coordinate. Just love those white bowls with the cute little teal bowties on them!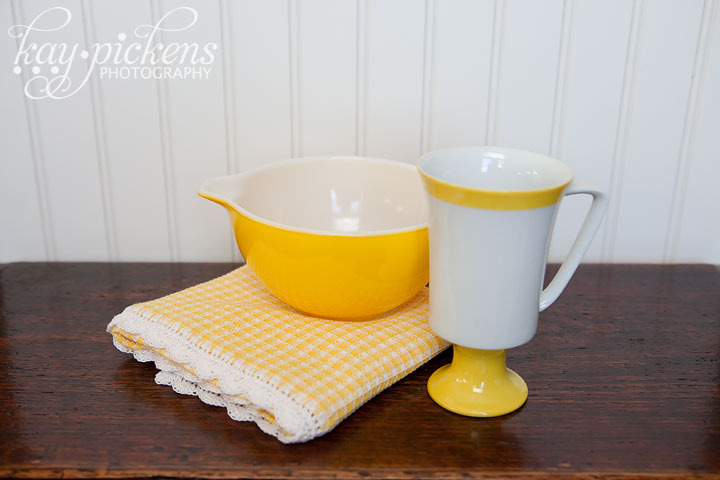 I also look for matching napkins, towels, or fabric to go with a color I pick out. I admit, I have a thing for crochet edged towels.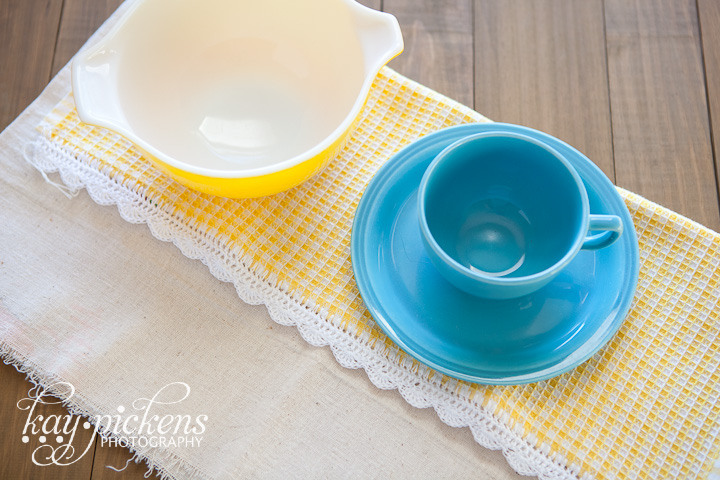 Even better when the colors I pick out work well together! I also use that feed sack cloth shown here under the yellow towel for many of my more rustic shots. Very versatile.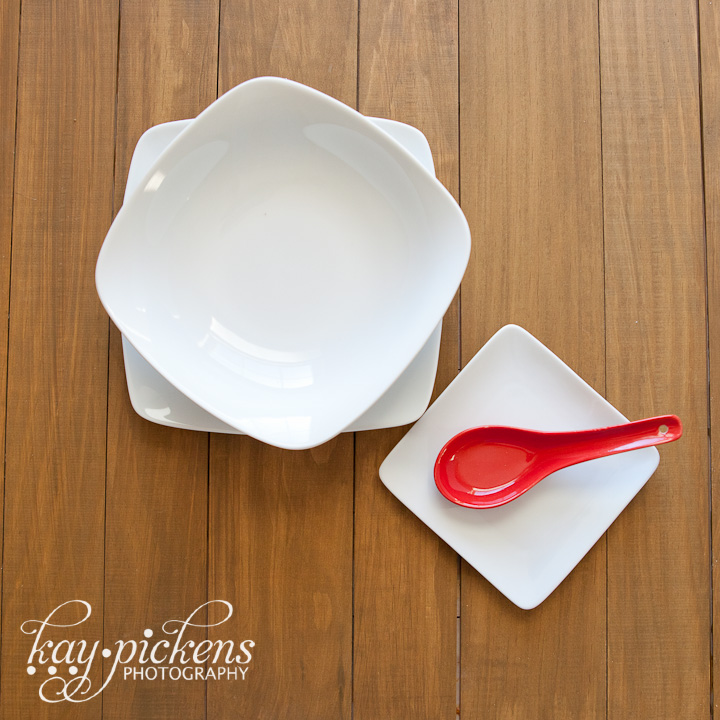 I'm always on the lookout for simple white dishes. Sometimes a food just demands a simple dish that doesn't compete with the colors of the food. Oh, and the cute red tasting spoon? 75 cents at Pier One. They have them in white too.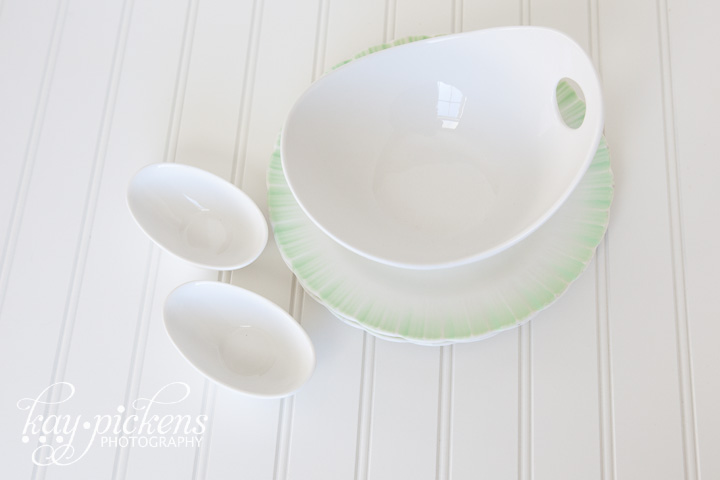 I love the unusual shape of this white bowl with the small cut out circle in it. The little bowls are used to show different ingredients. The white bowls were from the clearance area at TJMaxx. The cute white plates with the pale green edging? Well, I just loved them, so they came home with me. Haven't used them on a shoot yet.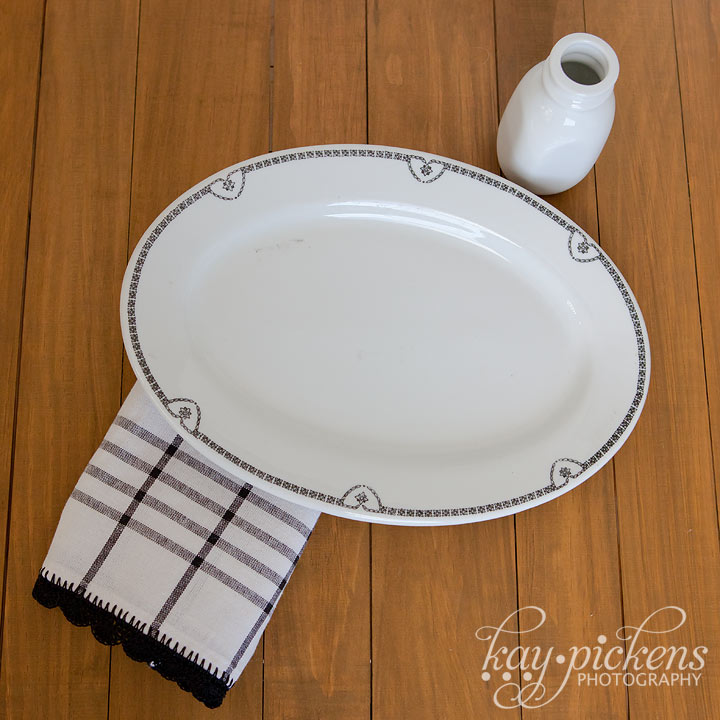 I found this tea towel (yes, with the crochet edge) and my husband spied this white platter with the black edging. He's getting pretty good about my numerous antiquing trips. I shared about one of our antiquing trips on this post.  Oh, the tiny milk bottle was from Bed, Bath, and Beyond. Isn't it adorable?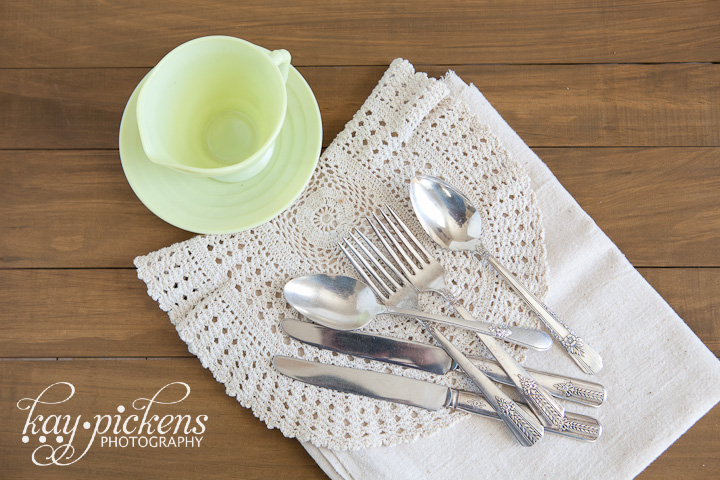 I love finding antique silverware. Mismatched. A few pieces matching. Whatever catches my eye. Love the texture of this crocheted doily. Always looking for simple layers and textures to add to my food photography shots.
Just a few of my recent food photography props that I found. It's all about the thrill of the hunt for me too. I don't spend much money on the props. If they are expensive I lose all "thrill" of the shopping expedition. While I'm not much of a mall shopper or clothes shopper…point me in the direction of an antique mall or flea market and I'm your woman!